Ambrose Property Group breaks ground on new business park and announces first major user in Monrovia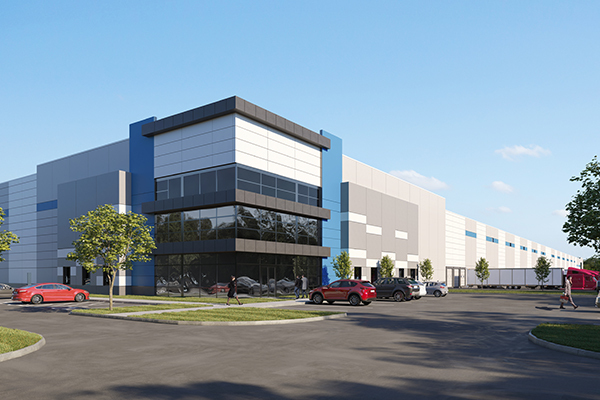 Westpoint Business Park fills a need for premier industrial space in the Indianapolis area
INDIANAPOLIS– With growing demand for industrial space in the Indianapolis area, Ambrose announced this week that construction is underway on its new Westpoint Business Park in Monrovia. Love's Travel Stops will be the first company to occupy the Class-A logistics park with a 206,000 square-foot tire retread and distribution center.
"We are thrilled to welcome Love's to Westpoint Business Park," said Ambrose President and Chief Investment Officer Jason Sturman. "Westpoint Business Park offers an ideal Midwest location for Love's to extend its services, and we believe it will be attractive to many more of the world's leading industrial and logistics businesses."
As central Indiana has grown to become a preferred location for industrial, distribution and logistics services, Westpoint Business Park is situated on 555 acres of land in the southwest Indianapolis submarket, where vacancy is low and demand is high. Located at the intersection of Interstate 70 and State Road 39 in the heart of central Indiana's transportation, distribution and logistics region, it is easily accessible from several major highways and only nine miles from Indianapolis International Airport and the world's second-largest FedEx air-cargo hub. Once finished, it will be one of the state's largest distribution and logistics parks.
"We are excited to work with Ambrose so that we can join the Monrovia community," said Steve Phillips, director of tire sales & plant operations for Love's. "As the demand for our retread products continues to grow, we'll continue to look for locations around the country to open new centers in areas that best support our customers' access to tires."
In addition to the building for Love's, Ambrose has also broken ground on a 507,600-square-foot, speculative warehouse at Westpoint Business Park. This state-of-the-art facility is expandable to 685,260 square feet and will be visible from I-70. It is scheduled for completion in February 2021, and Ambrose expects strong tenant demand.
There are plans for up to nine Class-A distribution buildings at Westpoint Business Park, totaling over 6 million square feet. Buildings will range in size from 200,000 square feet to over 1 million square feet.
"E-commerce and logistics are becoming more vital than ever, especially during COVID-19," Sturman said. "Ambrose is proud to continue leading the way in bringing state-of-the-art industrial real estate to Indianapolis and the Midwest."
Earlier this month, Ambrose announced the groundbreaking of Building II at its Mount Comfort Logistics Center in the Mount Comfort Corridor of Hancock County.
The Indianapolis office of JLL assisted in securing the construction loan for the project and will also be listing the available buildings at Westpoint Business Park. Learn more about Westpoint Business Park here. See attached park rendering. Tours are available upon request.