Fairfield Commerce Park in Cincinnati announces first leases and sale of two buildings and one development site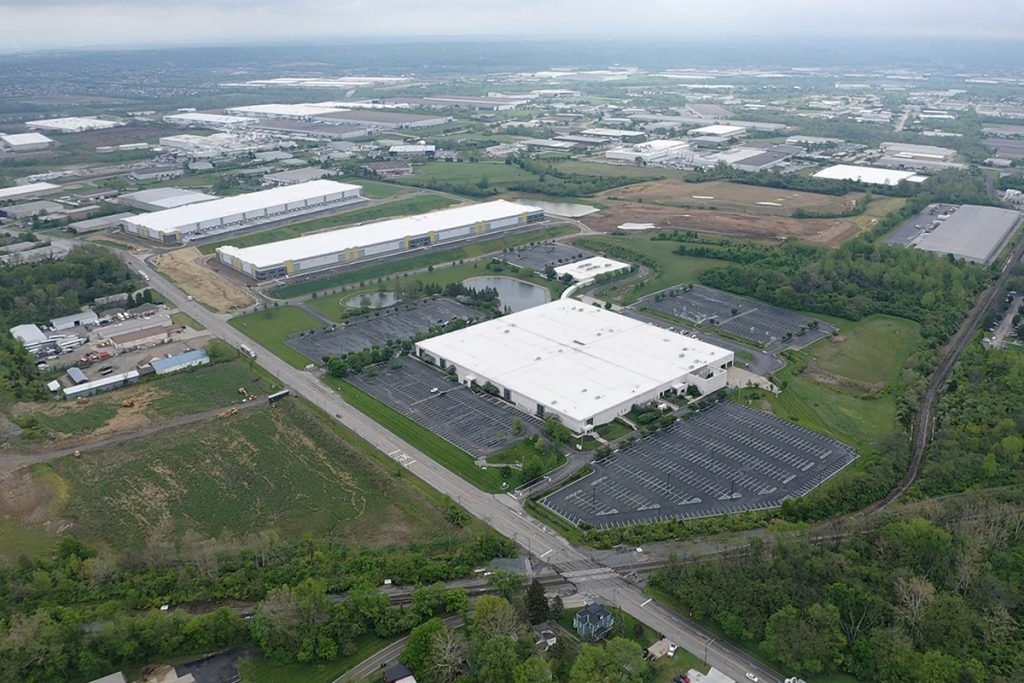 The park has achieved leasing for two of the recently completed buildings, which were purchased by Black Creek Group
INDIANAPOLIS – Ambrose Property Group announced this week the completion and leasing of Buildings I and II at Fairfield Commerce Park, both of which were acquired by Black Creek Group, a real estate investment management firm. The 246,480-square-foot Building I will be leased in its entirety by one building user, while another user will lease 95,000 square feet of Building II, which totals 300,560 square feet.
"This project marks an exciting milestone for Ambrose, as it is our first development in the greater Cincinnati area," said Ambrose Executive Vice President of Development Grant Goldman. "The City of Fairfield has been a fantastic partner, and we look forward to our continuing our work together as we move into the next phase of development."
"We are impressed by the steady momentum at Fairfield Commerce Park," said Nathaniel Kaelin, economic development manager for the City of Fairfield. "I'm confident that the logistical advantages, quality buildings and the performance-based incentives will continue to attract companies to our area, and we look forward to working with Ambrose and Black Creek Group as the park continues to develop."
Fairfield Commerce Park is a 137-acre master planned park located in the northwest Cincinnati submarket. Strategically positioned near the convergence of I-275 and I-75 in the heart of Cincinnati's largest industrial area, the park is planned to have up to five Class A distribution buildings totaling more than a million square feet. Buildings will range in size from 90,000 square feet to more than 600,000 square feet.
In addition to purchasing Buildings I and II, Black Creek Group also purchased the land to develop Building III. Construction on the 615,000 square foot speculative project recently commenced and the facility is scheduled to be available for fixturing in December 2021 and completed in February 2022. Ambrose will continue to act as development manager on behalf of the developer, Black Creek Group.
"We are thrilled to have purchased two buildings and one land parcel within the park and look forward to growing our industrial presence in the Cincinnati market, which offers close proximity to a large, skilled labor pool and thousands of businesses," said Marty Edmondson, market officer for the North Central Region at Black Creek Group. "We are grateful to partner with Ambrose and the City of Fairfield for the development of Building III and can't wait to see this state-of-the-art facility completed."
Fairfield Commerce Park also includes a 270,000-square-foot building formerly occupied by Liberty Mutual, located at 9450 Seward Road, which is now available to lease for commercial office or industrial use. Learn more about Fairfield Commerce Park and leasing opportunities here. Tours are available upon request.
In addition to Fairfield Commerce Park, Ambrose is developing new e-commerce logistics projects in Indianapolis, Kansas City, Oklahoma City and Denver.
###
Ambrose Property Group
Ambrose Property Group is a regionally recognized leader in industrial real estate ownership, development and redevelopment. Headquartered in Indianapolis and founded in 2008, Ambrose provides the best user experiences in industrial and e-commerce real estate with the target of perfect project execution driven by an entrepreneurial mindset. Learn more at ambrosepg.com.
About Black Creek Group
Black Creek Group is a leading real estate investment management firm that invests in institutional quality commercial real estate across the U.S. The firm manages diverse offerings across the industrial, multifamily, office and retail sectors – providing a range of investment solutions for both institutional and wealth management channels. Over its more than 25-year history the firm has bought or built over $23 billion of investments. As of March 31, 2021, the firm had a national footprint of 75.8 million square feet across 31 U.S. markets, including properties under control and development. Learn more at blackcreekgroup.com.