Ambrose Property Group continues development of logistics center in Hancock County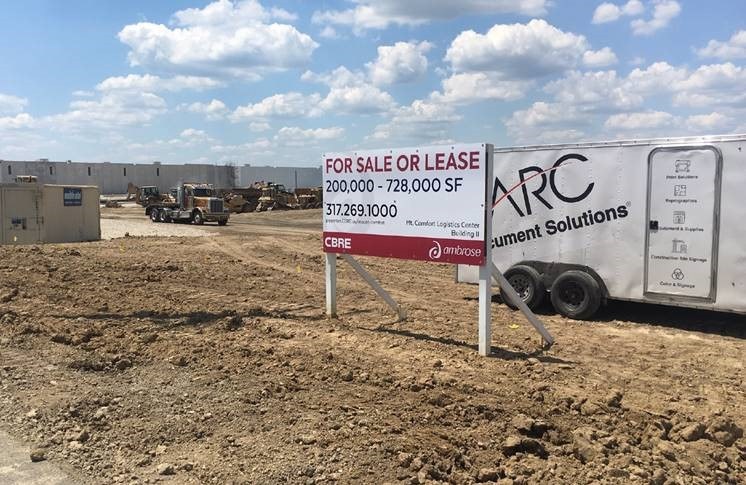 Construction on Building II at Mount Comfort Logistics Center is now underway
INDIANAPOLIS – Ambrose Property Group, in partnership with the Hancock County Council, today announced the groundbreaking for Building II at Mount Comfort Logistics Center. The 505,872-square-foot building is the second of four Class A distribution buildings in the development located on 176 acres east of Indianapolis and less than one mile from Interstate 70.
"We are excited about this next phase of growth at Mount Comfort Logistics Center," said Scott Sanders, vice president of development for Ambrose. "The tenant in the first building will bring 800 jobs of varying levels to Hancock County, and with this second building now underway, we expect to see continued job growth that will create ripple effects throughout the Mount Comfort community."
Building II does not yet have a tenant, but it is ideally configured for e-commerce, logistics and light manufacturing. Completion is planned for January 2021. Ambrose broke ground on Building I at Mount Comfort Logistics Center in November 2019, and it will be complete in August. All four planned buildings are of varying size to attract a diverse range of businesses, and the development will total over $130 million. Mount Comfort's strong labor market and location make it the ideal area for a logistics center; nearly 276,000 households are located with a 25-minute commune to the area.
"On behalf of everyone in Hancock County who has been involved in this endeavor, we are all very excited about the development," said Randy Sorrell, executive director of the Hancock Economic Development Council. "We have seen rapid growth in our community and we're confident Mount Comfort Logistics Center and its convenient location will allow us to continue attracting a variety of high-quality jobs to our community."
"Our company is entirely focused on e-commerce and industrial development, both in Indianapolis and nationally," said Sanders. "The Mount Comfort Logistics Center aligns with our vision and business strategy."
The Mount Comfort Logistics Center is located on the north side of West County Road 300N and west of North County Road 400W.